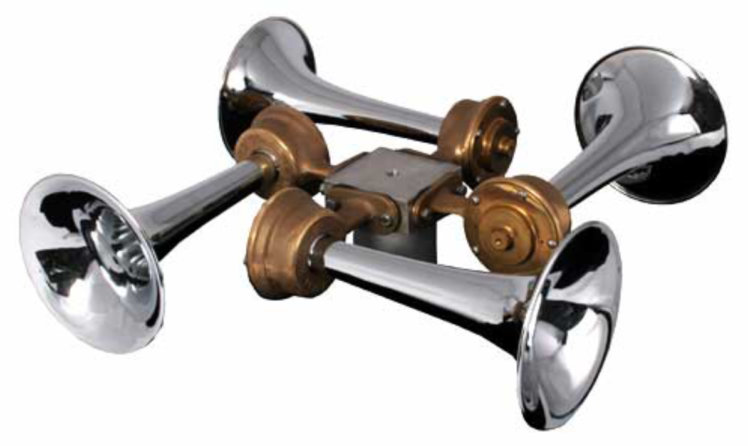 Buell Manufacturing Company
Lyons, Illinois
Founded in 1912, Buell Manufacturing specializes in producing high quality air horns for emergency and personal vehicles, trucks, boats, and industrial uses. By combining unsurpassed sound with reliable trouble-free operation, we create air horns of exceptional long-term value. Now led by the 3rd generation owner, it still uses craftmanship and excellent materials to produce these beautiful pieces.
Note: I grew up in the mid-60's admiring the Buell Air Horns that my Dad had purchased in 1957. He told some great stories of these air horns that had once been on the hood of his '54 Plymouth Belvedere Convertible. The Buell Air Horns were with him throughout his duty with the Marine Corps, and the countless fellow Leathernecks who were ferried to Vegas and LA. The Buell Air Horns were even used occasionally to serenade my Mom during their courtship or to announce his arrival for a date.
Wanting to know more about the infamous Buell Air Horns, I tracked down company and visited the plant. Taking the Buell Air Horns back to the same plant from which they were made. With some refurbishment by the great team at Buell, the horns now sound as good as they must have done in 1957. So, I can say with confidence that a Buell Air Horn will last a lifetime! My experience with their product, and while at the plant gave me the confidence to partner with Gary and his team in making available this great American-made story and products to our customers.